Circle of Power


Information
Special features

None

Items

None

Connected areas
Location


The Circle of Power is a small area which is situated between Maggiore Underwater and Route 324.
Walkthrough
Edit
The trainers in this area give increased experience whenever their Pokémon are defeated in battle.
After surfacing from Maggiore Underwater the player simply needs to make their way through the Team Asgard/Olympus Grunts riding Sharpedo until they come across an island where Jake will be in the midst of confronting one of Team Asgard/Olympus's commanders.
TIP: Use the nurse to heal the player's Pokémon before continuing up the stairs of the platform in the center of the island.
Once the player makes their way over to the island, the commander will attempt to summon a Pokémon referred to as Maladeux, but ultimately fails when Jake manages to summon the Pokémon instead and then catches it in a Master Ball. After capturing the Fakemon, Jake removes the villain from sight by commanding Maladeux to use Tesseract on them. Jake then engages the player in battle once again.
Once the battle with Jake is complete, the player must make their way to the east, where another dark pool of water will appear for the player to use Dive.
A doorway exists on the normally inaccessible top layer of this area to assist players who have gotten stuck on the top section due to a bug.
Rival Battle
Edit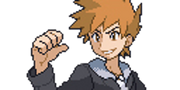 If the player chose BellsproutEdit
Pokémon
Level
Moves
98
Agility
ExtremeSpeed
Brick Break
Leaf Blade
97
Heavy Slam
Rock Polish
Bulldoze
Smack Down
98
Crunch
Head Smash
Hi Jump Kick
Swagger
100
Confuse Ray
Dark Pulse
Fire Blast
Focus Blast
100
Ice Punch
Doom Desire
Iron Head
Psycho Boost
100
Bolt Strike
Searing Shot
Psycho Boost
Blue Flare
100
Rage State
Dark Matter
Hyper Beam
Dark Epitaph
Reward: 6400
If the player chose MagbyEdit
Pokémon
Level
Moves
98
Wing Attack
Flare Blitz
Fire Fang
Dragon Claw
97
Heavy Slam
Rock Polish
Bulldoze
Smack Down
98
Crunch
Head Smash
Hi Jump Kick
Swagger
100
Draco Meteor
Dragon Pulse
Ice Beam
Hydro Pump
100
Ice Punch
Doom Desire
Iron Head
Psycho Boost
100
Bolt Strike
Searing Shot
Psycho Boost
Blue Flare
100
Rage State
Dark Matter
Hyper Beam
Dark Epitaph
Reward: 6400
If the player chose HorseaEdit
Pokémon
Level
Moves
98
Ice Fang
Waterfall
Crunch
Dragon Claw
97
Heavy Slam
Rock Polish
Bulldoze
Smack Down
98
Crunch
Head Smash
Hi Jump Kick
Swagger
100
Leaf Storm
Spore
Sludge Bomb
unknown
100
Ice Punch
Doom Desire
Iron Head
Psycho Boost
100
Bolt Strike
Searing Shot
Psycho Boost
Blue Flare
100
Rage State
Dark Matter
Hyper Beam
Dark Epitaph
Reward: 6400
Trainer
Pokémon
Level

Team Asgard/Olympus Grunt

Gyarados
97
Seaking
97
Golduck
97
Rewards: 4850
Trainer
Pokémon
Level

Team Asgard/Olympus Grunt

Sharpedo
97
Octillery
97
Zangoose
97
Rewards: 4850
Trainer
Pokémon
Level

Team Asgard/Olympus Grunt

Liepard
97
Bisharp
98
Sharpedo
97
Rewards: 4900
Encounterable Pokémon
Edit
Pokémon
Games
Levels
Chance
Water
Lapras

Z

O

66-68
60%
Jellicent

Z

O

66-68
40%