Onega Town Museum


Information
Special features

None

Items

Time Caller

Connected areas
Location


The Onega Town Museum is a major plotline point that introduces the player to the major antagonists of the game. It holds little importance outside of this event.
Walkthrough
Edit
The museum located in Onega Town holds an old artifact known as the Time Caller. When you arrive in Onega Town you find out that Team Asgard/Olympus is in the middle of stealing it from the museum. You have to battle your way through Team Grunts to get to where the artifact and the thieves are, at which point you will battle one of the team's commanders. If you emerge victorious, you are taken outside and shown precisely why you should be afraid of Team Asgard/Olympus.
Time CallerEdit
After obtaining HMXX the player may return to the Onega Town Museum and wander back to where Odin/Zeus was originally standing before being confronted by the player. If the player then uses HMXX in that spot they will be able to obtain the Time Caller themselves.
Obtainable Items
Edit
| Item | Location |
| --- | --- |
| Time Caller | The middle display case at the far back of the museum, requires Tesseract. |
Boss Battle
Edit
Asgard Commander Freyja (Zeta)Edit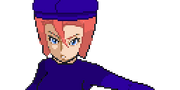 Pokémon
Level
Moves
HootHoot
15
Peck
Uproar
Hypnosis
unknown
Riolu
16
Force Palm
Counter
Endure
Feint
Beldum
18
Take Down
None
None
None
Rewards: 1440
Olympus Commander Athena (Omicron)Edit
Pokémon
Level
Moves
Hoothoot
15
Peck
Hypnosis
Uproar
None
Riolu
16
Feint
Endure
Force Palm
Counter
Mienfoo
18
Fake Out
Double Slap
Meditate
Detect
Reward: 1440
Team Olympus/Asgard Grunts
Edit
Grunts may be one of these kinds:
Trainer
Pokémon
Level

Team Olympus/Asgard Grunt

Pawniard
13
Rewards: 650
Trainer
Pokémon
Level

Team Olympus/Asgard Grunt

Shelmet
14
Rewards: 650
Trainer
Pokémon
Level

Team Olympus/Asgard Grunt

Karrablast
14
Rewards: 700
Trainer
Pokémon
Level

Team Olympus/Asgard Grunt

Riolu
13
Rewards: 700
Trainer
Pokémon
Level

Team Olympus/Asgard Grunt

Zorua
13
Rewards: 650