Polaris Town is the home of the final gym in the Aroma Region. It is connected by two different parts of Mt. Epsilon to the north and south, a 6th Safari Zone to the northwest, and the Phoenix Iota through the space station to the east.
Walkthrough
Edit
Upon arriving in Polaris Town the player will find their options for progressing in the game limited to one location: The Polaris Town Gym. Mt. Epsilon (Upper) is currently blocked off by a little kid who refuses to let the player pass, and the Scientist standing in front of the space station to the east refuses to let the player board the spaceship to the Phoenix Iota.
After the player has cleared the Polaris Town Gym, one of the two entrances to Mt. Epsilon in the north will become accessible and the player will be able to enter the upper portions of Mt. Epsilon. Once the events on the summit have been completed, the player will then be able to enter the other entrance to Mt. Epsilon (referred to as the Mt. Epsilon slope), and then progress to Route 7X.
Obtainable Items
Edit
Obtainable Pokémon
Edit
| Pokémon | Location |
| --- | --- |
| Kecleon | Traded for any Pokémon from the Youngster wandering around town |
| Bunnelby | A Youngster alone in a house will trade it for a Pancham (Zeta) |
| Pancham | A Youngster alone in a house will trade it for a Bunnelby (Omicron) |
Special Features
Edit
Safari ZoneEdit
Polaris Town is home to the 6th Safari Zone of the game, which fittingly allows the player to capture several different Ice-type Pokémon inside. Also, if you Surf past the river and scale some walls with Rock Climb, the player will find an Abomasite.
Space StationEdit
The space station to the east of town allows the player to visit the Phoenix Iota, but it also requires that the player receive the Crest of Aroma first in order to access it. As this is obtained after completing the Aroma Region storyline, the player will need to return to Polaris Town after finishing 99% of their journey in order to partake of this exciting feature.
Polaris Gym
Edit
Ice-type Gym
The Polaris Gym contains an ice floor with holes in it where if the player falls down, they will encounter four trainers. Note that these trainers must still be battled even if the Gym Leader has already been defeated.
Guide to Reaching the Gym Leader:
---
To get to the gym leader:
Go left from the top left corner of the starting area
Up
Right
Up
Right
Down
Left
Up
Left
Down
Right
Up
Right (Onto a gravel patch)
Up from the top left corner
Left
Down
Right
Up
Right
---
Gym TrainersEdit
Gym Leader TimEdit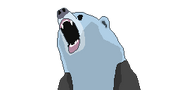 Pokémon
Level
Moves
Item
73
Ice Shard
Earthquake
Trick Room
Stealth Rock
71
Shadow Chill
Shadow Sky
None
None
None
74
Ice Shard
Night Slash
Ice Shard
Low Kick
Weakness Policy
75
Ice Shard
Shell Smash
Icicle Spear
Rock Blast
75
Giga Drain
Earthquake
Blizzard
Ice Shard
74
Surf
Toxic
Roar
Encore
Reward: 7500, Niflheim Badge, TM14 Blizzard