Route 303

Route 303 extends from the beach near Route 304 to the other side of the river near Onega Town.
Information
Special features

Day-Care Center

Items

1x Super Potion, 2x Oran Berry,
2x Rawst Berry, Crawdite

Connected areas
Location


Route 303 is connected with Route 302 to the north, Route 304 to the east and Onega Town to the west. Midnight Way is also located here.
Walkthrough
Edit
Route 303 has several entrances and exits. When the player arrives they have the ocean and Route 304 to the east, but they should be going the other way. Most likely the player will first notice the Day-Care center where they can leave their Pokémon with the Day-Care couple for leveling and breeding.
To continue the player needs to battle the trainers in the grass and then go north where they will see some cliffs and a cave. If the player enters the cave they will come to Midnight Way and on the other side they will find the Midnight Mansion, where they can find several useful items and wild Pokémon. Other than that there's not much the player can do there early on.
To continue to the next town, the player should go back to the cave entrance on Route 303 and then walk to the west (left). The player will encounter a few more trainers there before they come to a small bridge over some water. When the player has crossed over the bridge they will have reached the entrance to Onega Town.
However, when the player tries to enter through the door, someone bumps in to them. It is the protagonist's rival, Jake, who naturally wants to battle. After the player has defeated him they can continue on their way to Onega Town.

TIP: If the player is doing a Nuzlocke challenge watch out for the double battle and the Psychic trainer. They can come as a bit of a surprise if not leveled enough and Kadabra can do some serious damage with its Confusion.
Obtainable Items
Edit
| Item | Location |
| --- | --- |
| Super Potion | Behind the entrance to Midnight Way |
| Oran Berry (x2) | Berry tree directly above the exit to Onega Town |
| Rawst Berry (x2) | Berry tree directly above the exit to Onega Town |
| Crawdite | At the top of the waterfall near the exit to Onega Town |
Rival Jake
Edit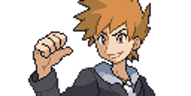 If the player chose BellsproutEdit
Pokémon
Level
Moves
14
Quick Attack
Leer
Pursuit
Absorb
16
Fire Spin
Faint Attack
Ember
SmokeScreen
Reward: 1024
If the player chose HorseaEdit
Pokémon
Level
Moves
14
Water Gun
Leer
Bubble
Smokescreen
16
Vine Whip
Growth
Poison Powder
Wrap
Reward: 1024
If the player chose MagbyEdit
Pokémon
Level
Moves
14
Scratch
Growl
Smokescreen
Ember
16
Water Gun
Leer
Smokescreen
Bubble
Reward: 1024
Trainer
Pokémon
Level

Bird Keeper Samuel

Pidgey
14
Spearow
14
Staravia
15
Rewards: 480
Trainer
Pokémon
Level

Pokémon Rangers Chris & Cris (Double Battle)

Growlithe
13
Ponyta
13
Herdier
14
Rewards: 840
Trainer
Pokémon
Level

Psychic Gella

Kadabra
16
Rewards: 512
Trainer
Pokémon
Level

Youngster Sebastien

Zigzagoon
12
Patrat
12
Rewards: 192
Trainer
Pokémon
Level

Gentleman Eric

Patrat
15
Bidoof
15
Rewards: 1080
Encounterable Pokémon
Edit