Route 312


Information
Special features

Latios/Latias Quest

Items

2x Full Restore, TM87 Swagger,
TM01 Hone Claws, Heracrossite

Connected areas
Location


Route 312 is a long, winding route filled with plateaus and bridges that connects Ladoga Town, Route 313 and Route 315 together.
Walkthrough
Edit
The simplest way to cut through Route 312 is to pass the initial grassy area and then traverse through the middle of the next area until another grassy area is reached. From here the player reaches a dilemma: There appears to be an opening to another location to the northeast, but there are two Team Asgard/Olympus Grunts preventing the player from continuing. Since they refuse to move, the player is required to travel south down the set of stairs.
After traveling a little bit southwest of these stairs another set of stairs will present themselves to the player. Taking these stairs and following the bridges west, north, and then northeast at the end of the bridge will reveal the entrance to Route 313. But beware that before the player can even make it to Route 313 they will be confronted by the player's rival Jake, who challenges the player for the Swagger.
TIP: Because Jake leads off with a Klefki it may be within the player's best interest to either use a Pokémon which is immune to confusion or that is holding a Persim Berry/Lum Berry to avoid serious damage and frustration from Swagger and Foul Play.
After Clearing Mount PressEdit
After the events at Mount Press have been completed the two Grunts preventing the player from continuing will disappear, allowing the player to continue through Route 315.
Latios/Latias QuestEdit
Latios or Latias will appear here as part of the Latios/Latias Quest. The player may find them in the normally empty square-like area to the southwest of the entrance to Route 315 assuming that they have encountered Latios/Latias in the previous required locations beforehand.
Obtainable Items
Edit
Item
Location
Full Restore (x2)
After passing the girl at the entrance to Route 313 who talks about finding a rare Pokémon, head down the stairs and then head northeast to find it near the corner of the northern-most wall.
Directly to the right of the entrance to Route 315
TM87 Swagger
In the middle of the path with the bridges; it's near impossible to miss
TM01 Hone Claws
On the top of one of the plateaus near the beginning of the route (requires Rock Climb)
Heracrossite
Near the end of the route, southeast of Channeler Solana will be a wall that requires Rock Climb to travel down that will lead to it
Rival Jake
Edit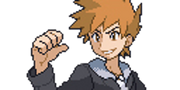 If the player chose BellsproutEdit
Pokémon
Level
Moves
36
Thunder Wave
Substitute
Swagger
Foul Play
38
Screech
Brick Break
Quick Attack
Absorb
37
Take Down
Iron Defense
Mud-Slap
Metal Claw
38
Confuse Ray
Flame Burst
Focus Blast
Faint Attack
37
Payback
Brick Break
Swagger
Sand-Attack
Reward: 2400
If the player chose MagbyEdit
Pokémon
Level

Moves

36
Thunder Wave
Substitute
Swagger
Foul Play
37
Ember
Smokescreen
Scary Face
Dragon Claw
37
Take Down
Iron Defense
Mud-Slap
Metal Claw
38
Bubblebeam
Agility
Twister
Ice Beam
37
Payback
Brick Break
Swagger
Sand-Attack

Reward: 2400
If the player chose HorseaEdit
Pokémon
Level
Moves
36
Thunder Wave
Substitute
Swagger
Foul Play
37
Ice Fang
Water Gun
Dragon Claw
Bite
37
Take Down
Iron Defense
Mud-Slap
Metal Claw
37
Payback
Brick Break
Swagger
Sand-Attack
38
Vine Whip
Venoshock
Growth
Poison Powder
Reward: 2400
Trainer
Pokémon
Level

Cool Trainer Karen

Scyther
32
Scizor
34
Charmeleon
32
Rewards: 2040
Trainer
Pokémon
Level

Hiker Terry

Jynx
31
Graveler
34
Vanillish
35
Rewards: 1120
Trainer
Pokémon
Level

Bird Keeper Sammy

Murkrow
33
Swablu
33
Rewards: 1056
Trainer
Pokémon
Level

Lady Mariana

Roselia
32
Lopunny
35
Rewards: 5600
Trainer
Pokémon
Level

Pokémon Ranger Tuesday

Plusle
32
Quagsire
32
Cinccino
35
Rewards: 2100
Trainer
Pokémon
Level

Burglar Seegen

Liepard
35
Rewards: 3080
Trainer
Pokémon
Level

Biker Christopher

Scraggy
32
Pupitar
36
Lairon
35
Rewards: 1152
Trainer
Pokémon
Level

Youngster Conrad

Kirlia
32
Gardevoir
34
Gallade
34
Rewards: 544
Trainer
Pokémon
Level

Cool Trainer Seto

Tropius
36
Rewards: 2140
Trainer
Pokémon
Level

Black Belt Tyleretti

Hitmonchan
34
Hitmontop
35
Hitmonlee
34
Rewards: 1120
Trainer
Pokémon
Level

Scientist Grills

Rotom
34
Porygon-Z
36
Rewards: 1728
Trainer
Pokémon
Level

Super Nerd Henry

Klink
34
Metang
36
Rewards: 1728
Trainer
Pokémon
Level

Hiker Watson

Kabutops
35
Aerodactyl
37
Omastar
35
Bastiodon
36
Rewards: 1184
Trainer
Pokémon
Level

Gambler Mosta

Krokorok
33
Nidoking
36
Nidoqueen
36
Rewards: 2592
Trainer
Pokémon
Level

Engineer Kyle

Electabuzz
36
Lucario
37
Rewards: 1776
Trainer
Pokémon
Level

Channeler Solana

Gothorita
38
Rewards: 1216
Encounterable Pokémon
Edit