Route 3X
300px

Information
Special features

None

Items

Max Revive, Lucarionite,
Aroma starter Mega Stone

Connected areas
Location


Route 3X is a tropical route containing a variety of wild Grass-type Pokémon encounters. It connects the player to Magmax Cave in the southeast and the Ruined Tower in the northwest.
Walkthrough
Edit
When the player exits the Ruined Tower they may be surprised to find themselves in a location filled with greenery as opposed to the desolate desert area that they just exited from. The player must then navigate through the wilderness and over bridges to reach Magmax Cave in the southeast and continue their adventure.
As the player explores this area they have the opportunity to locate their rival, Jake, in a small cabin in the northeastern part of the route. Upon speaking to him the player will then be given the option to battle him and if they accept and win, they will receive a Mega Stone to be used on the starter Pokémon received in Cephei Town.
Obtainable Items
Edit
Item
Location
Max Revive
Located in the southwestern corner at the end of the series of platforms and bridges just past Ranger Myag
Sceptite
Reward for defeating Jake in the forest cabin in the northeast of the route (the stone obtained corresponds to the Aroma starter Pokémon chosen by the player)
Blazikenite
Swapertite
Lucarionite
Found directly to the right of the entrance to Magmax Cave (requires Wormhole to access)
Rival Battle
Edit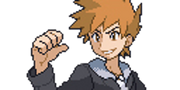 If the player chose TreeckoEdit
Pokémon
Level
Moves
Item
44
Swagger
Substitute
Thunder Wave
Foul Play
None
45
Swift
Agility
Chip Away
Slash
None
46
Flame Burst
Slash
Wing Attack
Fire Fang
45
Leaf Blade
Coil
Giga Drain
Slam
None
46
Flame Charge
Reversal
Flame Burst
Headbutt
None
46
Zen Headbutt
Gravity
Refresh
Double-Edge
None
Reward: 2944, Sceptite
If the player chose TorchicEdit
Pokémon
Level
Moves
Item
44
Swagger
Substitute
Thunder Wave
Foul Play
None
45
Sweet Scent
Petal Dance
Light Screen
Natural Gift
None
46
Iron Defense
Aqua Tail
Skull Bash
Water Pulse
45
Assurance
Take Down
Heat Crash
Flamethrower
None
46
Flame Charge
Reversal
Flame Burst
Headbutt
None
46
Zen Headbutt
Gravity
Refresh
Double-Edge
None
Reward: 2944, Blazikenite
If the player chose MudkipEdit
Pokémon
Level
Moves
Item
44
Swagger
Substitute
Thunder Wave
Foul Play
None
45
Flame Charge
Lava Plume
Defense Curl
Swift
None
46
Petal Dance
Worry Seed
Double-Edge
Synthesis
45
Aqua Tail
Aqua Jet
Slash
Encore
None
46
Flame Charge
Reversal
Flame Burst
Headbutt
None
46
Zen Headbutt
Gravity
Refresh
Double-Edge
None
Reward: 2944, Swampertite
Trainer
Pokémon
Level

Scientist Intimidatore

Skarmory
43
Lucario
43
Electrode
43
Doublade
43
Rewards: 2064
Trainer
Pokémon
Level

Bird Keeper Sigma

Ledian
43
Swoobat
44
Xatu
43
Rewards: 1408
Trainer
Pokémon
Level

Burglar Jedd

Weavile
45
Rewards: 3960
Trainer
Pokémon
Level

Sailor Tombler

Crawdaunt
43
Luvdisc
44
Gastrodon
44
Swanna
44
Poliwrath
44
Rewards: 1408
Trainer
Pokémon
Level

Black Belt Dragola

Heracross
44
Toxicroak
44
Conkeldurr
44
Medicham
44
Rewards: 1408
Trainer
Pokémon
Level

Cool Trainer Saxo

Primeape
44
Beedrill
44
Gallade
45
Aurorus
45
Exploud
44
Rewards: 2700
Trainer
Pokémon
Level

Pokémon Ranger Myag

Houndoom
44
Blastoise
45
Dusknoir
45
Rewards: 2700
Trainer
Pokémon
Level

Cool Trainer Sara

Gardevoir
45
Yanmega
45
Volbeat
45
Illumise
45
Delcatty
45
Rewards: 2700
Trainer
Pokémon
Level

Psychic Jesse

Unown
45
Slowking
46
Unown
45
Unown
45
Rewards: 1472
Encounterable Pokémon
Edit