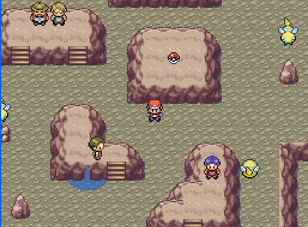 The first Secret Base is located in Agassiz Town and contains more than a few useful things that can be potentially upgraded. Pokémon healing is included for convenience.
There are three different levels of upgrades available for the base.
Basic Upgrades
Edit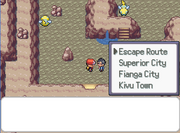 Secret EntrancesEdit
You can purchase secret entrances to and from your base. Secret entrances can be found in the Escape Route, Superior City, Fianga City, Kivu Town, Ladoga Town, Blackfist City, and Huron Town. You access these bonus routes by using Secret Power on stone pillars and lighthouses located in each of these locations. Interact with the pillar/lighthouse and the option to use Secret Power will appear. The exception is the Escape Route entrance, which is accessed by using Surf to get to a ladder in the back/top of the Escape Route.
Stage 1 WorkersEdit
You can purchase employees that can provide services.
Fossil Maniac: Sells all fossils for $1000 each.
Mart Worker: Standard Poké Mart salesperson. Can be upgraded.
Trade Master: One a day, will trade you a Pokémon. Can be upgraded.
Trainer: Will fight infinite battles against you, but costs money. The player can choose what level of Pokemon they want to fight, from 10 to 100, with higher levels being more expensive. The trainer will have six Audino, except the level 100 battle where the trainer will only have three.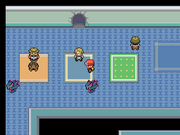 ExpansionsEdit
Dungeon: Mystery Dungeon-like minigame, more Pokémon and some loot. Use an Escape Rope or Dig to get out, or continue going down until you finally resurface.
Mining Cave: A minigame in which you excavate items from a rock wall.
Platform: Gives access to a Poké Ball with random items. Refills once per day. Some items are as follows:
20 Great Balls
20 Ultra Balls
Master Ball (1/100 chance)
Air Balloon
Choice Band
Exp. Share
Fire Gem
Focus Band
Focus Sash
King's Rock
Sun Stone
TM15 Hyper Beam
TM26 Earthquake
It's advised that you save before taking the random item; if you receive a random item that you do not want, simply reload from the last save and try again. The random item obtained appears to run down a certain list repeatedly in a very short time (less than ~3 seconds); hence waiting varying amounts of time before grabbing the item may help you get what you want.
Stage 2 Upgrades
Edit
To get the second stage of upgrades, you must purchase all available basic upgrades, and then touch the purple gem on the right side of the room. In addition to changing the tileset and layout, the wandering Dunsparce in the base are replaced with Misdreavus.
Stage 2 Workers Edit
Mythologist: Will translate scripture for you, giving you a hint as to where to find a random legendary Pokémon.
Magnemite, Gastly, Mr. Mime, and Shuppet: Each upgrade will replace 2 of the Misdreavus in the secret base with the chosen Pokémon, as well as cause them to randomly spawn in the Dungeon.
PokéTech Designer: Sells PokéGear add-ons.
Professor: Allows access to a single starter from each of Generations II - V (for a total of four). After receiving the Aroma secret base, he allows access to a second set of starters. Hint: do not pick Totodile, Chimchar, or Oshawott; these are available in the wild elsewhere
Tailor: Gives access to new/alternative outfits.
Trade Master (Upgraded): Will make you a different trade offer after you reject one.
TIP: Regarding the Professor upgrade, you must get the first set of starters before you receive the Aroma Secret Base, otherwise you will only get one set.
Gym LeadersEdit
Once purchased, the gym leaders will appear at random, and they will battle you as much as you want. If you only buy one, they will always appear. Talking to them will automatically have you battle them, even if you just defeated them. In order to encounter a different gym leader, exit and re-enter the base. All gym leaders have 2 Full Restores, and 1 Full Heal.
There is a trick that can be used to boost your Pokemon to level 80+ even though when you first unlock the secret base your Pokemon should be about level 30.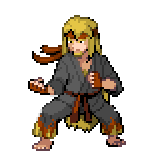 Reward: $5700
Pokémon
Level
Moveset
EV yield
Machamp
55

Scary Face

Dynamic Punch
Cross Chop
Wake-Up Slap
3 Atk
Medicham
55
Power Trick
Acupressure
Psych Up
Reversal
2 Speed
Hariyama
56
Endure
Wake-up Slap
Close Combat
Seismic Toss
2 HP
Gallade
56
Feint
Protect
Helping Hand
False Swipe
3 Atk
Conkeldurr
57
Stone Edge
Focus Punch
Superpower
Hammer Arm
3 Atk
Lucario
57
Calm Mind
Aura Sphere
Close Combat
Heal Pulse
1 Atk, 1 SpAtk
Reward: $5800
Pokémon
Level
Moveset
EV Yield
Meganium
55
Light Screen
Sweet Scent
Safeguard
Body Slam
1 Def, 2 SpDef
Torterra
57
Leaf Storm
Crunch
Giga Drain
Synthesis
2 Atk, 1 Def
Serperior
55
Wring Out
Giga Drain
Coil
Leaf Blade
3 Speed
Breloom
56
Dynamic Punch
Seed Bomb
Sky Uppercut
Mind Reader
2 Atk
Leafeon
58
Last Resort
Sunny Day
Synthesis
Leaf Blade
2 Def
Shiftry
58
Leaf Tornado
Leaf Storm
Razor Leaf
Nasty Plot
3 Atk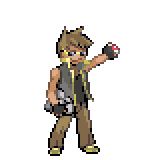 Reward: $5900
Pokémon

Level

Moveset

EV yield

Rhyperior
57
Drill Run
Take Down
Hammer Arm
Stone Edge
3 Atk
Probopass
57
Lock-On
Stone Edge
Zap Cannon
Earth Power
1 Def, 2 SpDef
Tyranitar
59
Payback
Dark Pulse
Earthquake
Crunch
3 Atk
Rampardos
58
Head Smash
Zen Headbutt
Screech
Ancient Power
2 Atk
Gigalith
57
Stone Edge
Explosion
Stealth Rock
Sandstorm
3 Atk
Golem
59
Stealth Rock
Double-Edge
Earthquake
Explosion
3 Def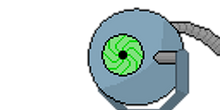 Reward: $6200
Pokémon
Level
Moveset
EVs Gained
Klinklang
59
Shift Gear
Metal Sound
Discharge
Screech
3 Def
Bronzong
60
Heavy Slam
Payback
Extrasensory
Heal Block
1 Def, 1 SpDef
Metagross
60
Meteor Mash
Iron Defense
Hammer Arm
Psychic
3 Def
Mawile
60
Iron Head
Play Rough
Spit up
Swallow
1 Atk, 1 Def
Skarmory
61
Air Slash
Night Slash
Autotomize
Slash
2 Def
Magnezone
62
Magnet Rise
Lock-On
Discharge
Screech
3 SpAtk
Reward: $6300 
Pokémon

Level

Moveset

EV yield

Gengar
60
Destiny Bond
Hex
Dark Pulse
Dream Eater
3 SpAtk
Drifblim
60
Shadow Ball
Amnesia
Baton Pass
Explosion
2 HP
Chandelure
61
Flame Burst
Hex
Confuse Ray
Smog
3 SpAtk
Froslass
62
Ice Shard
Hail
Blizzard
Destiny Bond
2 Speed
Dusknoir
62
Hex
Future Sight
Mean Look
Payback
1 Def, 2 SpDef
Gengar
63
Hex
Dark Pulse
Destiny Bond
Dream Eater
3 SpAtk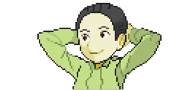 Reward: $6500
Pokémon
Level
Moveset
EV yield
Parasect
62
Growth
Giga Drain
Aromatherapy
Rage Powder
2 Atk, 1 Def
Ninjask
62
Slash
Baton Pass
X-Scissor
Swords Dance
2 Speed
Escavalier
63
X-Scissor
Giga Impact
Swords Dance
Reversal
2 Atk
Scizor(Mega)
63
Swords Dance
Iron Head
Feint
Double Hit
2 Atk
Accelgor
64
Final Gambit
Power Swap
Bug Buzz
Recover
2 Speed
Volcarona
65
Heat Wave
Silver Wind
Quiver Dance
Whirlwind
3 SpAtk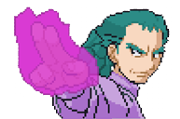 Reward: $6800
Note: Here, the battle is a single battle, unlike in his gym.
Pokémon
Level
Moveset
EV Yield
Gothitelle
65
Magic Room
Charm
Telekinesis
Psychic
3 SpDef
Reuniclus
66
Skill Swap
Heal Block
Wonder Room
Dizzy Punch
3 SpAtk
Sigilyph
66
Psychic
Air Slash
Cosmic Power
Sky Attack
2 SpAtk
Claydol
67
Explosion
Earth Power
Sandstorm
Heal Block
2 SpDef
Metagross
68
Hammer Arm
Iron Defence
Hyper Beam
Meteor Mash
3 Def
Alakazam
68
Trick
Psychic
Future Sight
Calm Mind
3 SpAtk
Reward: $7000
Note: Here, the battle is a single battle and the weather is not permanently sun, like in her gym. As of 1.4, Miranda allows the use of water-type Pokémon.
Pokémon
Level
Moveset
EV Yield
Camerupt
69
Eruption
Yawn
Earthquake
Fissure
1 Atk, 1 SpAtk
Houndoom
69
Inferno
Nasty Plot
Crunch
Flamethrower
2 SpAtk
Emboar
69
Flare Blitz
Head Smash
Flamethrower
Roar
3 Atk
Chandelure
70
Flame Burst
Hex
Confuse Ray
Smog
3 SpAtk
Charizard
70
Flamethrower
Fire Spin
Inferno
Slash
3 SpAtk
Volcarona
70
Bug Buzz
Silver Wind
Quiver Dance
Heat Wave
3 SpAtk
Full Upgrade
Edit
The third stage is activated after the storyline events in
Magmax Cave
in the Aroma region. This upgrade is located in
Carinae Town
. Because there are so many upgrades that can be purchased, the Secret Base is now divided into two floors.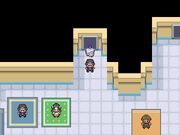 Ground Floor UpgradesEdit
Day Care Garden (Poké-Amie): A garden behind the Day Care workers that lets you battle or pet your Pokémon currently in the Day Care. Its primary function is to let you evolve  Eevee to Sylveon.
Day Care Worker: Provides Day Care Center services.
Egg Hatching Tunnel: A long tunnel that resets every certain distance. You can make eggs hatch here quickly, unlike the usual long running process.
Hall Of Glory: A room with statues of your previous Elite Four teams.
Mart Worker (level 2): An upgraded Poké Mart salesperson who sells the following items: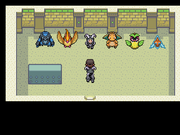 | Item | Price |
| --- | --- |
| Ultra Ball | 1200 |
| Hyper Potion | 1200 |
| Full Restore | 3000 |
| Revive | 1500 |
| Full Heal | 600 |
| Escape Rope | 550 |
| Super Repel | 500 |
| Max Repel | 700 |
| IV Stone | 10000 |
| Dream Stone | 10000 |
| Lucky Egg | 5000 |
| Exp. Share | 3000 |
| Amulet Coin | 100 |
| Move | Type | Power/Accuracy | PP | Category | Description |
| --- | --- | --- | --- | --- | --- |
| Drill Run | Ground | 80/95 | 10 | Physical | The user crashes into the target while rotating its body like a drill.  Critical hits land more easily. |
| Bounce | Flying | 85/85 | 5 | Physical | The user bounces up high, then drops on the target on the second turn.  This may leave the target with paralysis. |
| Signal Beam | Bug | 75/100 | 15 | Special | The user attacks with the sinister beam of light.  It may also confuse the target. |
| Iron Head | Steel | 80/100 | 15 | Physical | The user slams the target with its steel-hard head.  It may also make the target flinch. |
| Super Fang | Normal | ???/90 | 10 | Physical | The user chomps hard on the target with its sharp front fangs.  It cuts the targets HP to half. |
| Uproar | Normal | 90/100 | 10 | Special | The user attacks in an uproar for three turns.  Over that time, no one can fall asleep. |
| Seed Bomb | Grass | 80/100 | 15 | Physical | The slams a barrage of hard-shelled seeds on the target from above. |
| Dual Chop | Dragon | 40/90 | 15 | Physical | The user attacks its target by hitting it with brutal strikes.  The target is hit twice in a row. |
| Low Kick | Fight | ???/100 | 20 | Physical | A powerful low kick that makes the target fall over.  It inflicts greater damage on heavier targets. |
| Gunk Shot | Poison | 120/70 | 5 | Physical | The user shoots filthy garbage at the target to attack.  It may also poison the target. |
| Thunder Punch | Electric | 75/100 | 15 | Physical | THe target is punched with an electrified fist.  It may also leave the target with paralysis. |
| Fire Punch | Fire | 75/100 | 15 | Physical | The target is punched with a fiery fist.  It may also leave the target burned. |
| Ice Punch | Ice | 75/100 | 15 | Physical | The target is punched with an icy fist.  It may also leave the target frozen. |
Green Shard Move Tutor
| Move                | Type | Power/Accuracy | PP | Category | Description                                 |
| --- | --- | --- | --- | --- | --- |
| Worry Seed | Grass | ---/100 | 10 | Status | A seed that causes worry is planted on the target. It prevents sleep by making the target's Ability Insomnia. |
| Gastro Acid | Poison | ---/100 | 10 | Status | The user hurls up its stomach acids on the target. The fluid eliminates the effect of the target's Ability. |
| Helping Hand | Normal | ---/--- | 20 | Status | The user assists an ally by boosting the power of its attack. |
| After You | Normal | ---/--- | 15 | Status | The user helps the target and makes it use its move right after the user. |
| Magic Room | Psychic | ---/--- | 10 | Status | The user creates a bizarre area in which Pokémon's held items lose their effects for five turns. |
| Wonder Room | Psychic | ---/--- | 10 | Status | The user creates a bizarre area in which Pokémon's Defense and Sp. Def stats are swapped for five turns. |
| Spite | Ghost | ---/100 | 10 | Status | The user unleashes its grudge on the move last used by the target by cutting 4 PP from it. |
| Recycle | Normal | ---/--- | 10 | Status | The user recycles a held item that has been used in battle so it can be used again. |
| Trick | Psychic | ---/100 | 10 | Status | The user catches the target off guard and swaps its held item with its own. |
| Stealth Rock | Rock | ---/--- | 20 | Status | The user lays a trap of levitating stones around the opposing team. The trap hurts opposing Pokémon that switch into battle. |
| Outrage | Dragon | 120/100 | 10 | Physical | The user rampages and attacks for two to three turns. It then becomes confused, however. |
| Endeavor | Normal | ---/100 | 5 | Physical | An attack move that cuts down the target's HP to equal the user's HP. |
| Sleep Talk | Normal | ---/--- | 10 | Status | While it is asleep, the user randomly uses one of the moves it knows. |
| Skill Swap | Psychic | ---/--- | 10 | Status | The user employs its psychic power to exchange Abilities with the target. |
| Snatch | Dark | ---/--- | 10 | Status | The user steals the effects of any attempts to use a healing or stat-changing move. |
Yellow Shard Move Tutor
| Move               | Type | Power/Accuracy | PP | Category | Description                                 |
| --- | --- | --- | --- | --- | --- |
| Bind | Normal | 15/85 | 20 | Physical | Things such as long bodies or tentacles are used to bind and squeeze the target for four to five turns. |
| Snore | Normal | 50/100 | 15 | Special | An attack that can be used only if the user is asleep. The harsh noise may make the target flinch. |
| Heal Bell | Normal | ---/--- | 5 | Status | The user makes a soothing bell chime to heal the status problems of all the party Pokémon. |
| Knock Off | Dark | 20/100 | 25 | Physical | The user slaps down the target's held item, preventing that item from being used in the battle. |
| Synthesis | Grass | ---/--- | 5 | Status | The user restores its own HP. The amount of HP regained varies with the weather. |
| Roost | Flying | ---/--- | 10 | Status | The user lands and rests its body. It restores the user's HP by up to half of its max HP. |
| Sky Attack | Flying | 140/90 | 5 | Physical | A second-turn attack move where critical hits land more easily. It may also make the target flinch. |
| Role Play | Psychic | ---/--- | 10 | Status | The user mimics the target completely, copying the target's natural Ability. |
| Heat Wave | Fire | 95/90 | 10 | Special | The user attacks by exhaling hot breath on the opposing team. It may also leave targets with a burn. |
| Drain Punch | Fighting | 75/100 | 10 | Physical | An energy-draining punch. The user's HP is restored by half the damage taken by the target. |
| Pain Split | Normal | ---/--- | 20 | Status | The user adds its HP to the target's HP, then equally shares the combined HP with the target. |
| Tailwind | Flying | ---/--- | 15 | Status | The user whips up a turbulent whirlwind that ups the Speed of all party Pokémon for four turns. |
| Giga Drain | Grass | 75/100 | 10 | Special | A nutrient-draining attack. The user's HP is restored by half the damage taken by the target. |
Blue Shard Move Tutor
| Move             | Type | Power/Accuracy | PP | Category | Description                                   |
| --- | --- | --- | --- | --- | --- |
| Iron Defense | Steel | ---/--- | 15 | Status | The user hardens its body's surface like iron, sharply raising its Defense stat. |
| Magnet Rise | Electric | ---/--- | 10 | Status | The user levitates using electrically generated magnetism for five turns. |
| Magic Coat | Psychic | ---/--- | 15 | Status | A barrier reflects back to the target moves like Leech Seed and moves that damage status. |
| Block | Normal | ---/--- | 5 | Status | The user blocks the target's way with arms spread wide to prevent escape. |
| Hyper Voice | Normal | 90/100 | 10 | Special | The user lets loose a horribly echoing shout with the power to inflict damage. |
| Electroweb | Electric | 55/95 | 15 | Special | The user captures and attacks opposing Pokémon by using an electric net. It reduces the targets' Speed stat. |
| Icy Wind | Ice | 55/95 | 15 | Special | The user attacks with a gust of chilled air. It also reduces the targets' Speed stat. |
| Iron Tail | Steel | 100/75 | 15 | Physical | The target is slammed with a steel-hard tail. It may also lower the target's Defense stat. |
| Earth Power | Ground | 90/100 | 10 | Special | The user makes the ground under the target erupt with power. This may also lower the target's Sp. Def. |
| Zen Headbutt | Psychic | 80/90 | 15 | Physical | The user focuses its willpower to its head and attacks the target. It may also make the target flinch. |
| Foul Play | Dark | 95/100 | 15 | Physical | The user turns the target's power against it. The higher the target's Attack stat, the greater the damage. |
| Superpower | Fighting | 120/100 | 5 | Physical | The user attacks the target with great power. However, it also lowers the user's Attack and Defense. |
| Gravity | Psychic | ---/--- | 5 | Status | Gravity is intensified for five turns, making moves involving flying unusable and negating Levitate. |
| Dragon Pulse | Dragon | 85/100 | 10 | Special | The target is attacked with a shock wave generated by the user's gaping mouth. |
| Dark Pulse | Dark | 80/100 | 15 | Special | The user releases a horrible aura imbued with dark thoughts. It may also make the target flinch. |
Event Move Tutor
| Move             | Type | Power/Accuracy | PP | Category | Description                                   |
| --- | --- | --- | --- | --- | --- |
| Roar of Time | Dragon | 150/90 | 5 | Special | The user blasts the target with power that distorts even time. The user must rest on the next turn. |
| Spacial Rend | Dragon | 100/95 | 5 | Special | The user tears the target along with the space around it. Critical hits land more easily. |
| Extreme Speed | Normal | 80/100 | 5 | Physical | The user charges the target at blinding speed. This attack always goes before any other move. |
| V-Create | Fire | 180/95 | 5 | Physical | With a hot flame on its forehead, the user hurls itself at its target. It lowers the user's Defense, Sp. Def, and Speed stats. |
| Doom Desire | Steel | 140/100 | 5 | Special | Two turns after this move is used, the user blasts the target with a concentrated bundle of light. |
| Focus Punch | Fighting | 150/100 | 20 | Physical | The user focuses its mind before launching a punch. It will fail if the user is hit before it is used. |
| Boomburst | Normal | 140/100 | 10 | Special | The user attacks everything around it with the destructive power of a terrible, explosive sound. |
| Hi Jump Kick | Fighting | 130/90 | 10 | Physical | The target is attacked with a knee kick from a jump. If it misses, the user is hurt instead. |
| Draco Meteor | Dragon | 130/90 | 5 | Special | Comets are summoned down from the sky onto the target. The attack's recoil harshly reduces the user's Sp. Atk stat. |
| Superpower | Fighting | 120/100 | 5 | Physical | The user attacks the target with great power. However, it also lowers the user's Attack and Defense. |
| Megahorn | Bug | 120/85 | 10 | Physical | Using its tough and impressive horn, the user rams into the target with no letup. |
| Zap Cannon | Electricl | 120/50 | 5 | Special | The user fires an electric blast like a cannon to inflict damage and cause paralysis. |
| Aura Sphere | Fighting | 80/--- | 20 | Special | The user looses a blast of aura power from deep within its body at the target. This move is certain to hit. |
| Nasty Plot | Dark | ---/--- | 20 | Status | The user stimulates its brain by thinking bad thoughts. It sharply raises the user's Sp. Atk. |
| Meteor Mash | Steel | 90/90 | 10 | Physical | The target is hit with a hard punch fired like a meteor. It may also raise the user's Attack. |
| Double-Edge | Normal | 120/100 | 15 | Physical | A reckless, life-risking tackle. It also damages the user by a fairly large amount, however. |
| Seismic Toss | Fighting | ???/100 | 20 | Physical | The target is thrown using the power of gravity. It inflicts damage equal to the user's level. |
| Hypnosis | Psychic | ---/60 | 20 | Status | The user employs hypnotic suggestion to make the target fall into a deep sleep. |
| Octazooka | Water | 65/85 | 10 | Special | The user attacks by spraying ink in the target's face or eyes. It may also lower the target's accuracy. |
| False Swipe | Normal | 40/100 | 40 | Physical | A restrained attack that prevents the target from fainting. The target is left with at least 1 HP. |
| Giga Drain | Grass | 75/100 | 10 | Special | A nutrient-draining attack. The user's HP is restored by half the damage taken by the target. |
| Heal Bell | Normal | ---/--- | 5 | Status | The user makes a soothing bell chime to heal the status problems of all the party Pokémon. |
| Baton Pass | Normal | ---/--- | 40 | Status | The user switches places with a party Pokémon in waiting, passing along any stat changes. |
| Morning Sun | Normal | ---/--- | 5 | Status | The user restores its own HP. The amount of HP regained varies with the weather. |
| Focus Punch | Fighting | 150/100 | 20 | Physical | The user focuses its mind before launching a punch. It will fail if the user is hit before it is used. |
| Wish | Normal | ---/--- | 10 | Status | One turn after this move is used, the target's HP is restored by half the user's maximum HP. |
| Blaze Kick | Fire | 85/90 | 10 | Physical | The user launches a kick that lands a critical hit more easily. It may also leave the target with a burn. |
| Crush Claw | Normal | 75/95 | 10 | Physical | The user slashes the target with hard and sharp claws. It may also lower the target's Defense. |
| Extrasensory | Psychic | 80/100 | 20 | Special | The user attacks with an odd, unseeable power. It may also make the target flinch. |
| Flare Blitz | Fire | 120/100 | 15 | Physical | The user cloaks itself in fire and charges at the target. The user sustains serious damage and may leave the target burned. |
| Psycho Boost | Psychic | 140/90 | 5 | Special | The user attacks the target at full power. The attack's recoil harshly reduces the user's Sp. Atk stat. |
| Dark Pulse | Dark | 80/100 | 15 | Special | The user releases a horrible aura imbued with dark thoughts. It may also make the target flinch. |
| Electro Ball | Electric | ???/100 | 10 | Special | The user hurls an electric orb at the target. The faster the user is than the target, the greater the damage. |
| Shift Gear | Steel | ---/--- | 10 | Status | The user rotates its gears, raising its Attack and sharply raising its Speed. |
| Acrobatics | Flying | 55/100 | 15 | Physical | The user nimbly strikes the target. If the user is not holding an item, this attack inflicts massive damage. |
| Secret Sword | Fighting | 85/100 | 10 | Special | The user cuts with its long horn. The odd power contained in the horn does physical damage to the target. |
| Bolt Strike | Electric | 130/85 | 5 | Physical | The user charges at its target, surrounding itself with a great amount of electricity. It may leave the target with paralysis. |
| Blue Flare | Fire | 130/85 | 5 | Special | The user attacks by engulfing the target in an intense, yet beautiful, blue flame. It may leave the target with a burn. |
Second Floor Upgrades Edit