Skadar City


Information
Special features

None

Items

Ancient Tome

Pokemon given

None

Pokemon trades

None

Gym

Hall of Champions

Connected areas
Skadar City is an almost entirely underwater city that is situated between Route 324 and Route 325. It is also the home of the third Sigil Hall.
Walkthrough
Edit
The trainers in this area give increased experience whenever their Pokémon are defeated in battle.
To access the Pokémon Center in this town and also head towards Route 325, the player must use Dive on the square in front of the Hall of Champions.
Though unseen from inside of Skadar City, a barrier exists in Mount Nova which prevents the player from progressing through the mountain unless the Champions Sigil is obtained. Therefore, the player's next goal should be to challenge Morgan and then claim the Champions Sigil.
Otherwise there isn't much to do in this city apart from marvel at how the houses and Sigil Hall itself can continue to thrive while underwater.
Obtainable Items
Edit
| Item | Location |
| --- | --- |
| Ancient Tome | Hidden in the top right corner of the table in the house to the right of the Poké Mart |
Hall of Champions
Edit
Continuing the trend from the last two Sigil Halls, the Hall of Champions features zero puzzles and three mandatory trainer battles in order to reach Morgan. The third battle pairs the player against Morgan's Fanboy, Freeman, who deviates from the Sigil Hall's Water-type standard and uses Ice types instead.
After defeating the Hall of Masters the player may then return to rematch against Morgan as many times as they desire.
Lesser TrainersEdit
Trainer
Pokémon
Level

Swimmer Tyrone

Slowking
100
Gorebyss
100
Ludicolo
100
Rewards: 1600
Trainer
Pokémon
Level

Swimmer Elizzy

Quagsire
101
Ludicolo
101
Gyarados
101
Rewards: 1616
Morgan Fanboy FreemanEdit

Pokémon
Level
Moves
Item
101
Blizzard
Hail
Thrash
Sheer Cold
None
101
Ice Beam
Hail
Blizzard
Sheer Cold
None
102
Brine
Hydro Pump
Safeguard
Sheer Cold
No Item
102
Ingrain
Blizzard
Wood Hammer
Sheer Cold
None
103
Aurora Beam
Spikes
Spike Cannon
Icicle Crash
None
Reward: 8240
Elite Four MorganEdit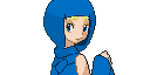 Items: Full Restore x2
Pokémon
Level
Moves
Item
103
Earthquake
Ice Punch
Waterfall
Stone Edge
106
Dragon Dance
Draco Meteor
Ice Beam
Hydro Pump
105
Surf
Ice Beam
Substitute
Agility
105
Aura Sphere
Dragon Pulse
Dark Pulse
Water Pulse
104
Waterfall
Bounce
Dragon Dance
Dragon Pulse
104
Hydro Pump
Psychic
Calm Mind
Rapid Spin
Reward: 10600, Champions Sigil
Community content is available under
CC-BY-SA
unless otherwise noted.